Carbon floating ring seal Espey WKA700 for screw compressors
Especially for the use in screw compressors EagleBurgmann Espey has designed the carbon floating ring seal Espey WKA700.
Screw compressors are extremely versatile and applied with growing amounts mostly in the process and hydrocarbon industry for harsh operating conditions. Screw compressors essentially are used for applications with impacts of corrosion and erosion where reciprocating and or centrifugal compressors are not up to par. The housings of screw compressors can be designed with one-part or horizontally split housing. Both variants limit the design space to seal the rotating screws in the housing.
EagleBurgmann Espey has designed the carbon floating ring seal Espey WKA700 under consideration of all requirements and restrictions for screw compressors. Espey WKA700 is designed on a modular principle like all Espey chamber seals, means the seal parts can be combined in any order according to the process requirements. The seal standardly is available for seal diameters from 50 up to 340 mm (1.79" up to 13.39"), whereby special sizes and smaller outside diameters are possible. The seal is designed for pressures up to 65 bar (942.75 PSI) abs., temperatures up to 225 °C (437 °F) and a sliding velocity up to 240 m/s (787 ft/s). By means of the floating arranged carbon seal rings the shaft can move radial up to 1 mm (0.04") without functional limitations of the seal. The axial shaft movement is theoretically unlimited. Seal media also can be toxic, acid and solids containing gases.
The pre-installed cartridge unit makes it easy to replace the seal quickly and without errors.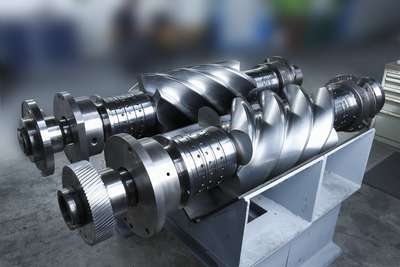 Advantages of the Espey WKA700
Pre-installed unit – easy assembly
Compact design
Modular design
Radial clearance of shaft without functional limitations possible
Axial shaft movement theoretically unlimited
Maintenance-friendly